About the IMSE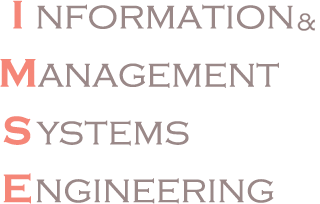 Introduction
It is clear that Information & Communication Technology(ICT) is transforming not only ways of doing business but also the basis of society as we know it and that it will increasingly be the key to the creation of successful and competitive businesses in the future.
However, the successful transition to the new information society will require not only the development of groundbreaking new information technology itself but also the expertise to take full advantage of the strategic potential of information technology. Although leading the world in many areas of electronics, data processing and communication technology, Japan lags behind in the application of ICT to creation of innovative new management and social systems. This situation is undoubtedly due in large part to a shortage of highly-skilled manpower with sufficient mastery of the new technology to develop new applications for the design, implementation and control of management information systems.
The objective of this Department is to study information and management systems and to train specialists with the expertise knowledge and skills necessary to develop the vast potential of information and management technology and to do so with an appreciation of socioeconomic environment of the real world. Such expertise is necessary to imagine totally new and different social structures and to develop innovative ways of organizing and managing businesses.
The Faculty and Educational System
The educational system is administrated by the faculty members of graduate school of information and management systems engineering, Nagaoka university of technology.  We have two program as shown below.   One is the undergraduate school of information and management systems engineering (bachelor program), and the other is the graduate school of information and management systems engineering (master program).  An integrated education through bachelor course and master course is served in our program.  The curriculum is designed as for the students who do not have the special / technical knowledge of information and management systems engineering, and they become specialists in the society with expertise knowledge of the field of management and information systems all over the world.  We admit students from Japanese high school, Japanese national institute of technology college (KOSEN), or from society.  And of course we admit students from abroad.
History
2000: Department of Management and Information Systems Science was created with a research purpose.
Management and Information Systems Engineering Course (Bachelor Program/Undergraduate School) was created with an educational purpose.
2004: Management and Information Systems Engineering Course(Master Program/Graduate School) was started.
2015: Name of the department is changed into the Department of Information and Management Systems Engineering, related to the replacement of research and educational organization of Nagaoka University of Technology.
The new name of the educational group "Inforamtion and Management Systems Engineering Course (Bachelor/Master Program)" was started.
Collaborative Working Faculties of the University
Physical Education and Health Care Center・・・providing both physical and mental medical sevices and training, and conducts experiments and the assessment of welfare engineering and sports engineering.
The Center for Multimedia System・・・developing and operating multimedia education systems for the university.
The Center for e-Learning Research and Application(CeRA)・・・playing a leading role in eHELP(e-learning Higher Education Linkage Project), which is a cooperative organization of over 6 universities and over 16 national collegies of technology.
Welcome to Researchers / Students
University staff and researchers interested in information and management systems engineering are cordially invited to visit the Department of Management and Information Systems Science to discuss the potential for an exchange of views and collaboration in the future development of information and management systems engineering. Students are invited to join the Department with a view to becoming an expert in this field. We look forward to your support and cooperation in helping us fulfill our aims.
Admission Policy
please visit to Nagaoka University of Technology Admission Page.
Facilities
Our department awaits you with many information tools / equipments for the highly specialized research and education.
Students are able to use hardwares / softwares all over 24 hours in order to study everyday lectures, make reports, or search job-hunting informations.
After being attached to each laboratories, students are able to study with PCs, servers, or many hardwares for specialized area of information and management systems engineering.
Rooms
Information rooms conducting lectures, trainings and experiments for undergraduate/graduate students : 2 rooms
Hardwares:
77(total) Windows PCs
Networking Environments (Gigabit Ethernet, LAN/WAN of inside/outside University)
AV Environments ( Mic, Projector, Large Size LCD, DVD/BD Player, Overhead Camera )
IO Environments ( Color Laser Printer, Scanner )
Softwares:
Java Development Kit & Eclipse IDE
IBM Rational Systems Developer
Microsoft VisualStudio
Microsoft Office Professional
Meeting / Seminar rooms : 5 rooms
Research and experiment rooms for common use : 2 rooms
Laboratories : 18 rooms